Peripheral Nerve Release of the Leg
I am experiencing some recovery in my peroneal nerve and knew that it would delight you to see what I can do. Beginning last July, I noticed the slightest movement in my toes. Progress has been slow and steady in the 8 months since then and now I am walking (mostly indoors, but also light yard work and excursions such as yesterday) without my AFO and without stumbling. I have a lot of movement in my middle three toes–none yet in the big toe or the small toe, the latter still looking "droopy". However, the PT at the hospital where I work out has measured my foot with a dynamometer and watched me progress from 0-0-0 in January to 4-4-5 currently. I continue to exercise several times a week at our hospital's Life Fit program. I had been walking 2 miles at 3.2 with my AFO. This week I experimented without the AFO. I am limiting myself to 1 mile at the same rate and it has gone fine. I notice some very slight swelling between my lower calf and ankle, but am not particularly concerned about that.
At any rate, I want you to know how well I am doing and how happy that makes my family and me. I am grateful for your care and for your ongoing concern.
With deep gratitude,
D. M.
---
Hernia Repair
Dear Dr. Dumanian,
Thank you for improving the quality of my life and giving me my independence. I had two abdominal hernias for 2 years as a result of surgery and treatment for cancer. My oncologist referred me to you for surgery once I was well enough. Other doctors at NU confirmed you were the best in repairing hernias such as mine. I had spent the last two years constantly pushing in my hernia in many disparate and embarassing circumstances, needing someone to be with me in case I was not able to push it in myself. I had to go the E.R. once because it was so extended and I was in so much pain I could not manage it. I read on cancer blogs of other women with hernias like mine. Many of them needed multiple hernia repairs because of repeated tears. You told me that you had an over 95% success rate, two years following surgery. In Dec. 2012 my surgery went perfect, hernias repaired. The pain meds were well planned and I did not experience pain. I had no complications. I was able to go to theater and leave my home within 2 weeks of the surgery, one week after discharge. I was off pain meds and walking in my house for 30 minutes by the third week. By the fourth week I was at the gym doing low impact aerobics.I am independent again and not worried about being in pain from the hernia. I appreciate being independent and free of pain because of you, your team at the Cosmetic Surgery clinic and in the in-patient unit of the hospital. I owe my life and the quality of my living to the professionals at Northwestern Hospital.
Sincerely,
C. B.
---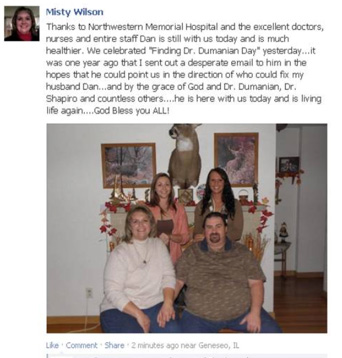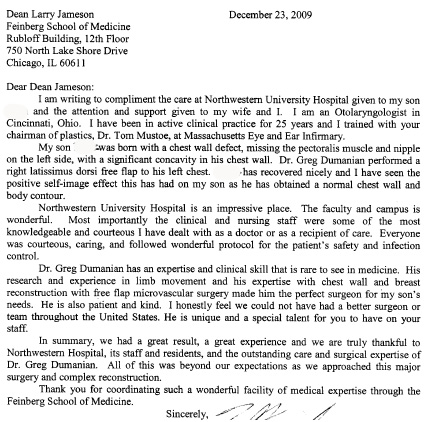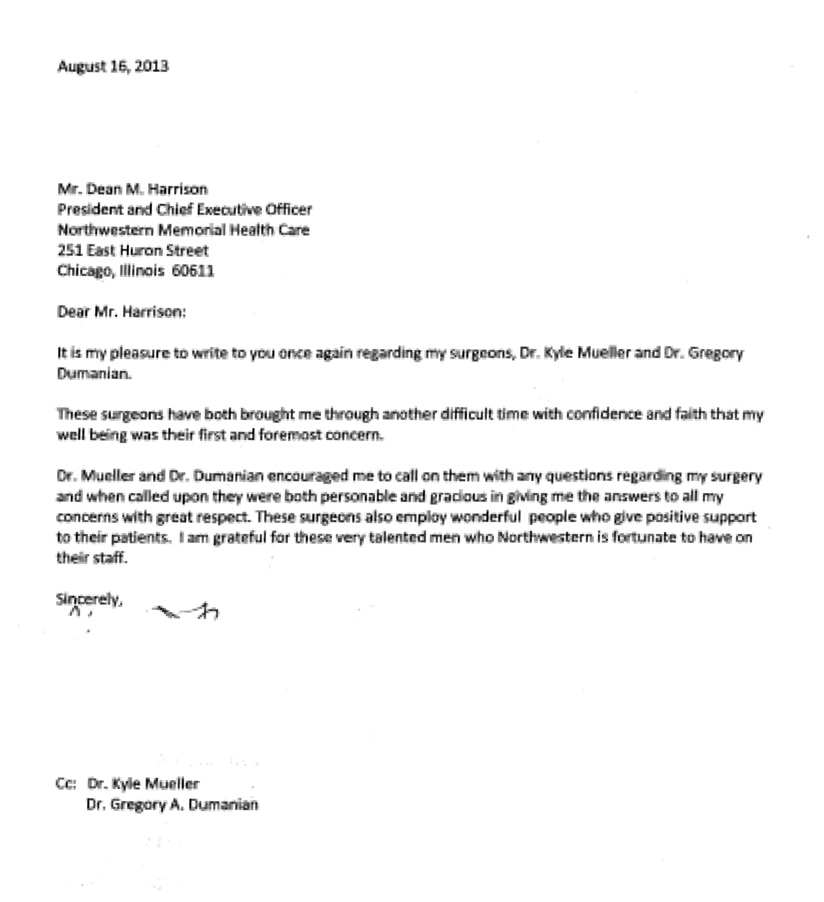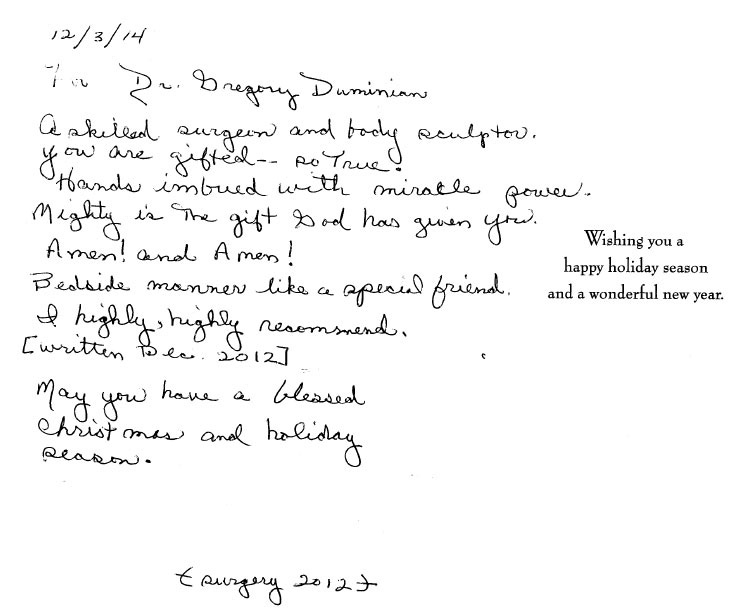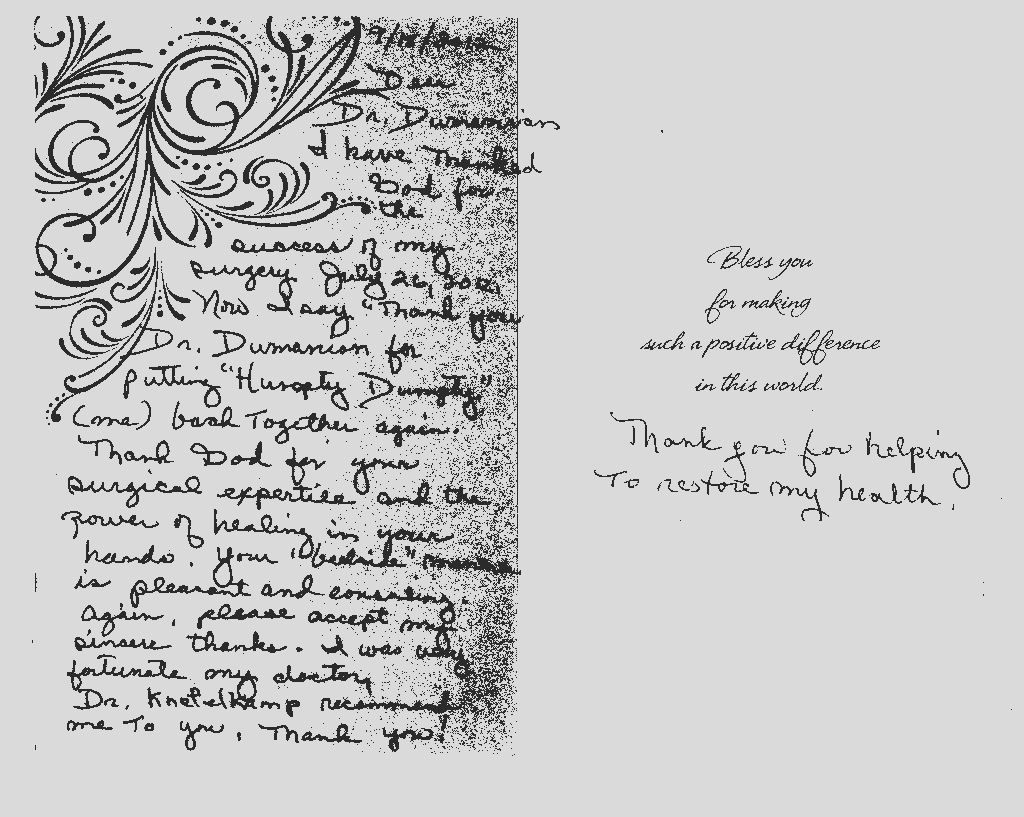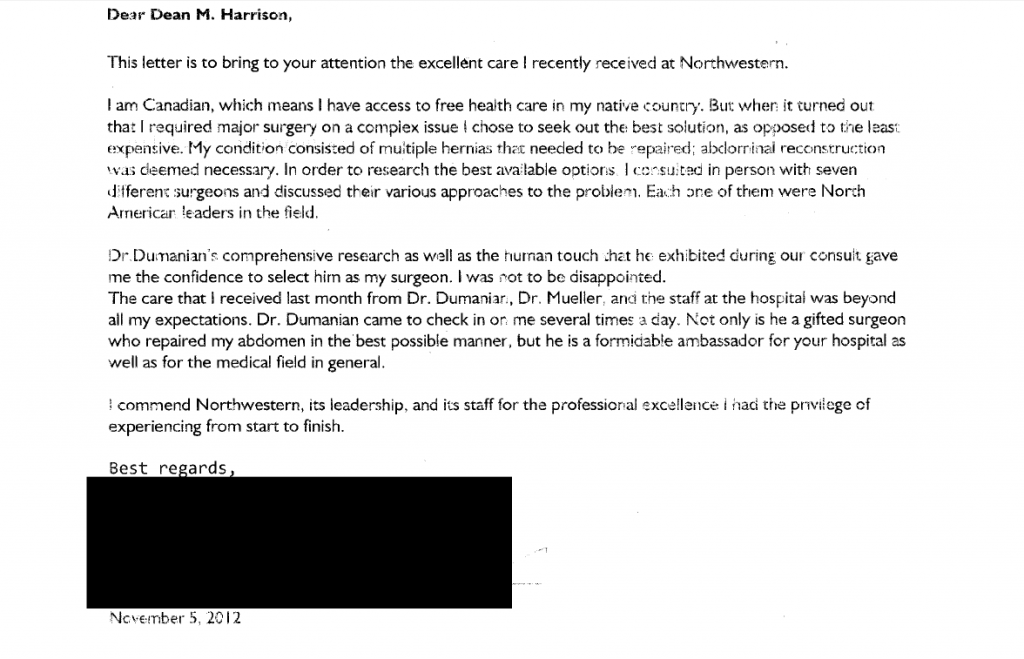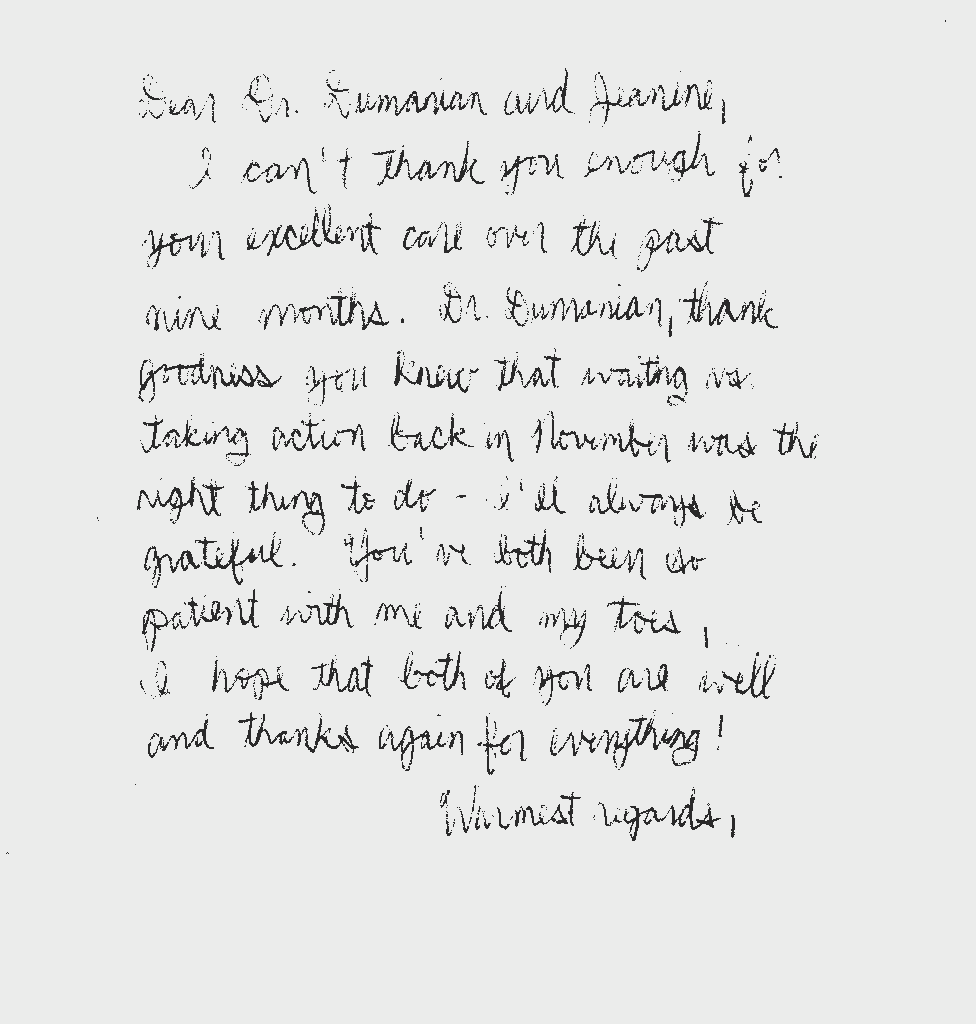 ---